THE VOYAGE OF ERASMUS: Greenland to the Mediterranean
In this, the second of three parts, Helga and David discover generous Scottish hospitality along the Caledonia Canal and confusing English eccentricity in the harbour of Tollesbury. They cruise the lovely canals of Holland and Belgium, where they're adopted by a water-ski club and feted as celebrities. From a romantic berth in Paris, they reach the Mediterranean to island-hop in Greece, Turkey, and Cyprus, becoming part of a cosmopolitan cruising culture—intrepid risk-takers from many lands, for whom each day brings some unexpected drama.
In its 238 lavishly illustrated pages, Volume 2 of The Voyage of Erasmus is packed with humour, great stories, stunning photographs, and charts. David and Helga's tale is a heady mix of the familiar and the exotic, the idyllic and the life-threatening, the splendours of the wilderness and the warmth of strangers. It will delight seasoned sailors and armchair travelers alike.
—Roy MacSkimming, author of Laurier in Love
You can see a table of contents, a sample chapter, pricing and instructions for purchase by clicking the link: click here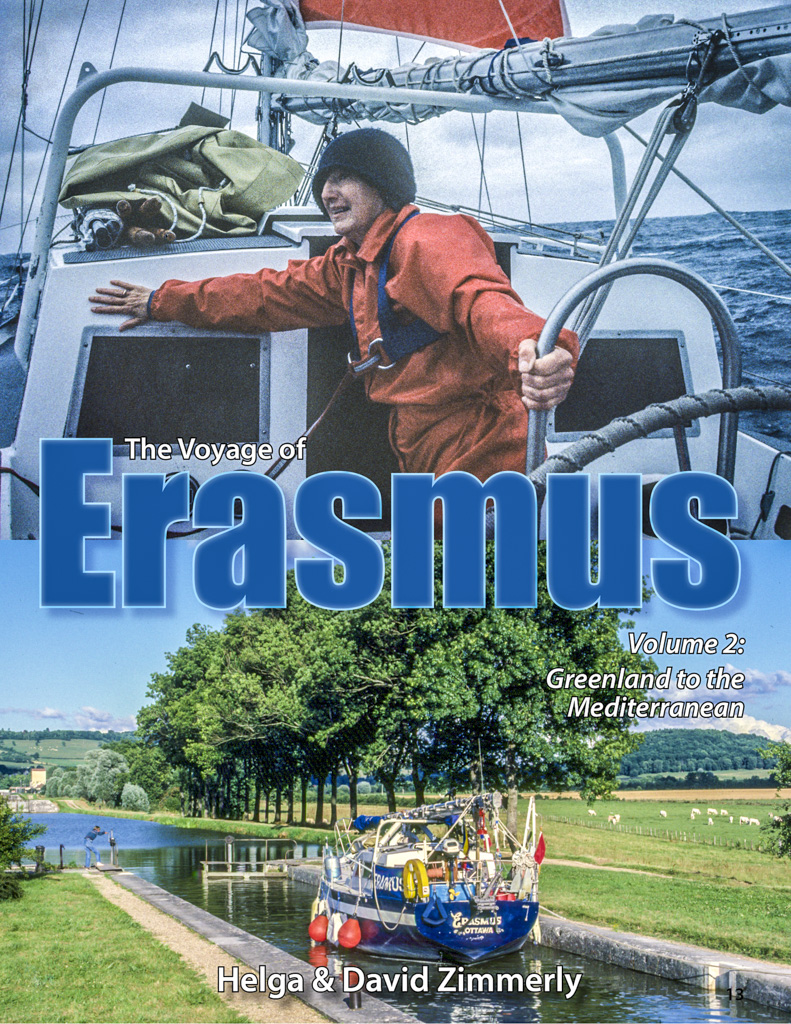 THE VOYAGE OF ERASMUS: Ottawa to the Arctic
Below is information about our eBook that tells the story of our voyage out the St. Lawrence and along the Labrador coast to Baffin Island in the mid 1980s. Part of the pleasure in writing and designing it was remembering the warmth of our welcome whenever we came ashore and the awesome scenery of that rugged coastline as we travelled ever further north.

It is more than 170 pages and has over 90 photos and charts, some hyperlinks and video. It is a PDF, the format most everyone can read on their desktop or Laptop computer. It is not meant to be read on a Kobo or Kindle type reader.
You can see a table of contents, a sample chapter, pricing and instructions for purchase by clicking the link: click here
David and Helga Zimmerly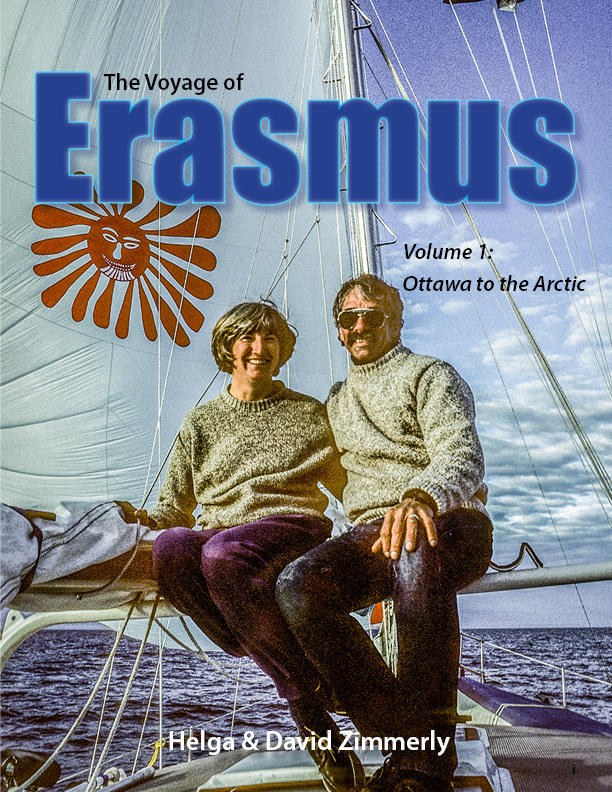 See the What's New section! [ 8 June 2004]
See the New Articles section! [ 22 November 2004]




East Arctic Kayak: A Reconstruction - 55 page ms. for $10 US, with over 100 photos, by David Zimmerly (19 June 2006)


Website for David Zimmerly's Photographs & Weaving: www.davidzimmerly.com (9 June 2006)


Building the One-Hole Aleut Bidarka (4.8 mb - 3 June 2006)


Do It Yourself - The East Arctic Kayak - Sea Kayaker