* This belongs to the collection of David & Helga Zimmerly.
THE VOYAGE OF ERASMUS: Ottawa to the Arctic
This is the story many of you have been asking us to write. It has taken us almost 20 years to get around to it, but here it is as a downloadable eBook. In its more than 170 pages it includes over 90 photos and charts, some hyperlinks and video. It is a PDF, and best seen on a laptop or desktop computer screen with a free Adobe Reader (https://get.adobe.com/reader/).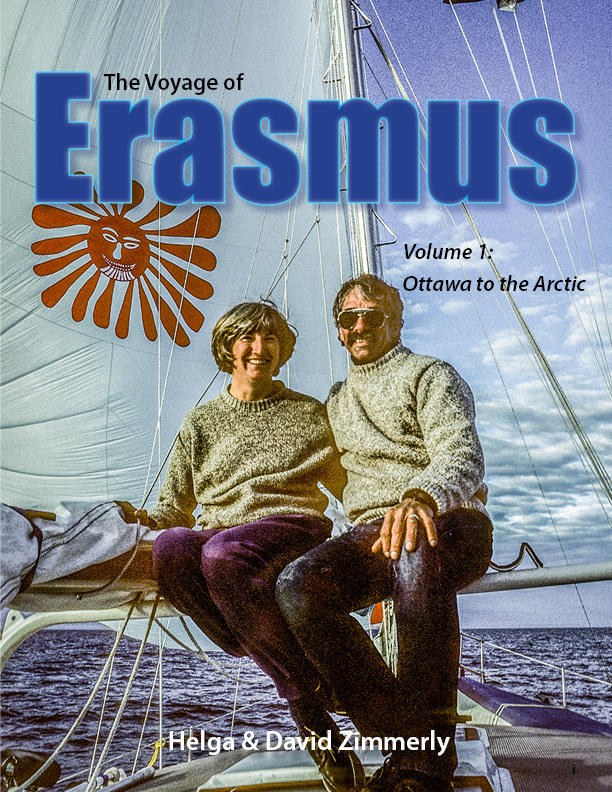 You can see a description and the Table of Contents, the Foreword by Roy MacSkimming and a sample chapter by clicking the link below.
http://www.arctickayaks.com/Erasmus/book1/erasmus1.htm

Questions and Answers
A: All traditional kayaks frames share basic construction techniques – that is, shaping of gunwales, bending of ribs, lashing parts together. The amateur builder needs to be comfortable with techniques of steam bending, scarfing, and lashing. None of these is difficult to learn. So your choice depends partly on your paddling ability and purpose.
A first time builder should have a good set of plans to work from and reasonably detailed instructions. (See below for sources).
Workshop size will help determine your choice of style, but given enough space, the 22' East Arctic kayak is a straightforward construction project. The end product is stable, easy to paddle and good to look at. Detailed, fully illustrated instructions for building this kayak will be available at this site in the fall. Dozens of amateur boat builders are happily paddling sleek Aleut reproductions. See Zimmerly, David W. "Building the One-hole Aleut Bidarka." and Brinck, Wolfgang, The Aleutian Kayak. Brinck's book is packed with construction tips.
Q: Where is a source for the more obscure articles in the bibliography?
A: Most of the anthropological references in the bibliography are available in the library of the Canadian Museum of Civilization. Translations of some of the Russian and other foreign texts will be available on this site at a later date. Copies of hard-to-find Zimmerly articles are available at this site.
A:

The full database will be available on CD in the fall, 2000.

It is written in Microsoft Access® 2002, so will require that software, at the moment, is installed on your computer.
Books and Publications For Sale
A:

The good news is that the Canadian Museum of Civilization is now offering plans for a wide variety of kayaks for $10.00 CND per sheet.

These plans were drafted from lines taken off during my research. For descriptions see Kayak Types.

You can reach the museum at the following address.

Benoît Thériault
Library, Archives and Documentation Services
Canadian Museum of Civilization
100 Laurier Street; P.O. Box 3100, Station B
Hull, Quebec, J8X 4H2 Canada

Tel: (819) 776-8431 Fax: (819) 776-7055
E-Mail: archives@civilization or benoit.theriault@civilization.ca
Last modified: 02 Jul 2014 - Visitors since 6 September 2000: